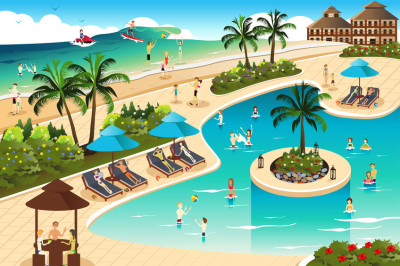 What separates a resort from a hotel?
Are you planning a trip but just aren't sure whether you should look for a resort or hotel? Furthermore, are you even sure what sets the two apart? Believe it or not, there are large differences between a resort or hotel. Each lodging type is designed to accommodate a specific traveler, whether they are there for a short or long stay.
There are specific reasons why some places call themselves a resort and others call themselves a hotel. From the length of stay to amenities, location, and activities, resorts and hotels offer uniquely different experiences. This doesn't mean hotels are better, or vice versa, but simply that they cater to a specific individual or family. Let's dig a little deeper.
What details separate the resort from the hotel?
As we briefly touched on above, there are four primary differentiating factors between a resort and a hotel.
-
Services
-
Amenities
-
Location
-
Activities
A resort also typically occupies a much larger physical footprint than a hotel. They can be found spread out and sprawling over wide swaths of land. Because of this extra real estate, the modern resort is able to offer a wider array of on-site activities for their guests to enjoy. Many resorts consider themselves self-contained mini-cities where their visitors want for nothing.
Because resorts also have more resources than hotels, they generally can offer a greater variety of perks, freebies, discounts, and comps. Tours, activities, dining experiences, shows, and more can usually be found at well-equipped resorts. But what kind of people can you expect to find at the different property types?
Who can you expect to find there?
There are differing reasons as to why a guest may want to choose one property type over the other. People looking into rooms at these destinations can typically be broken down into two types:
People who are traveling usually go from place-to-place for shorter periods of time. When one needs a temporary bed for a quick trip, hotels are the best option, not just for the convenience factor, but they can be far less costly as well. When you want nothing more than a (clean) bathroom and (comfortable) bed, there's nothing wrong with keeping it simple and booking a room at a hotel.
On the flip-side you have vacationers. These are the people that have a destination in mind and want to spend some quality time there. They want more than just a clean bathroom and comfortable bed. For vacationers, nothing less than the best will do. The modern American works his or her life away, striving for just a few weeks of vacation a year, so the least they should be able to expect is a memorable vacation. Resorts offer those memories.
Whether it be spending time in a luxurious swimming pool or enjoying some steak and lobster as you gaze out upon the bay, resorts offer vacationers more ways to relax. Where resorts at times play second fiddle to hotels is in the area of room size. Since most guests spend their time on activities or tours, they have less a need for a huge, luxurious room. This isn't true for all resorts, however. Luxury is the name of the resort game, so huge, beautiful rooms are not uncommon.
Now that you know the basics, you are ready to start searching for your perfect accommodations. If you are looking for a resort in Kihei that won't let you down, Napili Surf Beach Resort is your answer. Although we are not open currently, we are taking reservations for Spring 2018 and beyond. Call us today at (888) 627-4547 to inquire about dates or to make a reservation!